This season's hottest jewelry trend is all about the rings, big chunky finger rings and long sparkly earrings. The celebs are all wearing their hair swept back and up with long dangly earrings grazing their sexy bare shoulders. The glitzier the better!
1. Pearl Chandelier Earrings – £14.00 – Topshop
These stunning chandelier earrings are reasonably priced and are glitzy without being tacky. They're 12cm long, so will rest gently on shoulders and really make a statement.
2. Filigree Earrings – £7.99 – New Look
With the hanging chains adding length to these filigree earrings they will have a nice swing to them. They have tiny diamantes embedded in them to add some sparkle and at such a low price they're a bargain!
3. Oasis Chandelier Faux Pearl Earrings – £16.00 – ASOS.com
These are probably my favourite design out of them all. They are long and delicate, and the faux pearls add a vintage feel. They're also studded with diamante so they will shimmer when they catch the light.
4. Erikson Beamon Purple Multi-Leaf Drop Earrings – £12.00 – Debenhams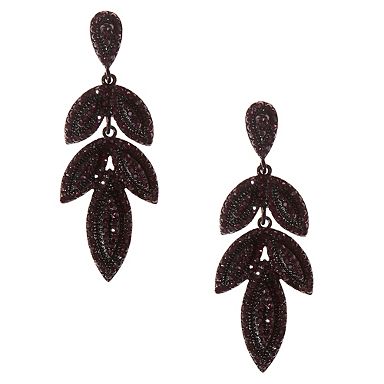 These earrings apear black at first, but when they catch the light they are really a deep mottled purple. The leaf shapes are similar to those of the earrings worn by Taylor Swift in the image above and create a beautiful shape when put together. They're also reduced from £15.00, so bargain! Debenhams have so many beautiful earrings on offer, and many of them very reasonably priced, so go and check out their website for more.
5. Coast Venner Earrings – £18.00 – House of Fraser
These stunning earrings really make a statement, with glitz-galore they will add instant Hollywood-glam to any outfit. Too much glitter can look tacky, but these avoid that and add a touch of class, plus with mini dangling diamante disco balls, you'll be the life and soul of the party!
Also… Go check out places like Primark and Peacocks for earrings on a smaller budget, they always have a wide range of jewelry and you can be sure that prices will be kept low.
Just a Note… If you are going for the long drop look, then make sure they do not conflict with your outfit, you don't want embellished shoulders getting tangled up with your earrings. The best way to wear the long drop and make a statement is to let them speak for themselves, with a strapless/one shoulder dress, hair swept back and simple make-up.